Early detection is key in the fight against cancer. This early detection can inform medical interventions when the rates of survival are highest. With traditional cancer testing practices, such as when it occurs after the appearance of symptoms, almost 50% of people are diagnosed in later stages of the disease progression resulting in the need for increased interventions and less favourable outcomes. Health Today Health is proud to offer Canadians the most advanced screening technologies with Aristotle® by StageZero Life Sciences. This ground-breaking early cancer screening test has the capacity to decrease the rates of late-stage diagnosis and puts control of your health and wellness into your own hands.
At the present moment, Aristotle® draws are scheduled in Calgary every second week. and Vaughan, and Toronto most days during the week. Aristotle® may also be available in Red Deer, Edmonton, and Medicine Hat, where we will be maintaining a wait list. Due to the time sensitive nature of the test and specimen integrity window, the availability of Aristotle® in these cities will depend on having enough sign ups that can all be scheduled within a 1 hour time period so we can arrange an immediate hot shot delivery to Calgary. In all cases, we ask that all interested clients submit an online contact form so that our client services team can connect with you and take you through the process from start to finish.
If you are part of a rural community that would like to arrange for an Health Today Pop Up Clinic to be held in your area to get access to Aristotle® and our other testing options, please submit an online contact form to our customer support team to start the discussion.
The Benefits Of Early Cancer Detection
When signatures of cancer are present and early diagnosis can occur, patients benefit with:
The ability to quickly respond with further testing and active surveillance
Less invasive interventions, decreased cancer progression, and faster recoveries
Higher rates of cancer remission
Lower costs of treatment, both financial costs and costs to quality of life
Increased survival rates
Despite the fact that the technologies for early detection exist, 40% of screenable cancers are diagnosed late.
Introducing Aristotle® Advanced Cancer Blood Test
Aristotle® by StageZero Life Sciences is positioned to change the landscape of cancer diagnosis with a multi-cancer test panel that leverages mRNA technology to detect multiple cancer signatures from a single blood sample. A cancer signature can indicate the presence of certain cancers, how likely certain types of cancer are to develop and spread, or how likely certain cancers are to recur.
Armed with this cancer blood test result, Canadians in partnership with their physicians can make the most informed decisions about their lifestyles, their treatment options, and their overall health.
Standard and Advanced Testing Services
Health Today delivers the same level of excellence in care and reliable results for our general lab work and our enhanced screening clients. Here are the lab tests currently offered by our collections and lab services team.
Who Can Benefit From Aristotle® Cancer Blood Test?
Cancer screening is a useful tool for anyone who wishes to gain comprehensive insight into their overall health, but there are certain populations for whom Aristotle® testing can be particularly beneficial. Cancer screening is recommended for Canadians with risk factors including:
Exposure to cancer-causing behaviours, environments, or substances
Age and gender predispositions to certain cancers
A family history of cancer
A personal history of previous cancers
What Cancers Does Aristotle® Screen For?
Leveraging mRNA technology known as the Sentinel Principle has been validated in over 9,000 patients and used by more than 100,000 patients in North America, Aristotle® screens for signatures of the following:
Breast Cancer
Ovarian Cancer
Cervical Cancer
Endometrial Cancer​
Liver Cancer
Colorectal Cancer
Colon Polyps
Stomach Cancer
​Prostate Cancer
Bladder Cancer
Nasopharyngeal Cancer
Early detection of these cancers can increase 5-year survival rates to up to 99%.
Early vs. late cancer diagnosis five-year survival rates:
Breast cancer: Early stage (98 percent) vs. late stage (28 percent)
Prostate cancer: Early stage (99 percent) vs. late stage (30 percent)
Colorectal cancer: Early stage (91 percent) vs. late stage (14 percent)
Table 1. Sensitivity of Aristotle® Cancer Blood Test To Detecting Different Types of Cancer
| | |
| --- | --- |
| Type of Cancer | Sensitivity |
| Bladder Cancer | 90.8% |
| Breast Cancer | 87.2% |
| Colon Cancer | 55.6% |
| Colon Polyps | 59.3% |
| Cervical Cancer | 100% |
| Endometrial Cancer | 96% |
| Liver Cancer | 93.8% |
| Nasopharyngeal Cancer | 100% |
| Ovarian Cancer | 92.2% |
| Prostate Cancer | 72.5% |
| Stomach Cancer | 100% |
See the ASCO Abstract on the Aristotle® Cancer Test Accuracies:
American Society of Clinical Oncology Abstract
How Does It Work?
With one simple blood test, Aristotle® screens for signatures of breast, ovarian, cervical, endometrial, liver, colorectal, stomach, prostate, and bladder cancers (as applicable). After specimen collection by one of our health professionals (mobile in-home and in-clinic), the sample is sent to StageZero Life Sciences labs within 6 hours for processing. Stage Zero Life Sciences will then contact you with the results.
Booking Information
Aristotle® is currently available in Calgary, Vaughn, and Toronto. Due to the time-sensitive window available for sample collection, sample delivery, and processing, in-clinic appointments can be made at our Calgary and Vaughan offices, and mobile specimen collection is available for Calgary, Vaughn, and Toronto locations.
Aristotle® testing is also available in Red Deer through pre-booked appointments. Please contact us through our online contact form and one of our health professionals will reach out.
Aristotle® Cancer Blood Test Pricing Information
Click the button below to see the pricing information for the Aristotle® Cancer Blood Test and all our other available tests.
What Our Clients Have To Say
We are proud of the important work we do and the impact that fast, convenient, and private lab testing services can have on the health and wellbeing of our community. We are even more proud that you don't have to take our word for it. Here is what our clients have to say about their experience with Health Today Health:
Health Today In Your Pocket!
Health Today is here to help you take control of your health! Our screening tests allow you to find and address health issues before they become bigger and less manageable. And with our new software, booking is easy!
book online, or download our easy-to-use Health Today Health app at the Apple Store or Google Play.
Download Now!
Aristotle® Early Detection Cancer Blood Test - A Powerful Weapon In The Fight Against Cancer
Detection of cancer at the earliest stages decreases the need for invasive interventions, interrupts disease progressions, increases survival rates, and saves lives. Take control of your own health with the most comprehensive insight into your risk of cancer and serious disease. Aristotle® by StageZero Life Sciences arms you with the information you need to make the most informed decisions about your lifestyle, your treatments, and your own health and wellness. When one simple blood test can provide the insight you need to live your best life, why wait? Get insight with Aristotle®. For further information, chat online with an Health Today Health professional, download our Health Today booking app, or book your appointment online today.
RELIABLE CANCER SCREENING
We offer a hybrid model of general blood work and public lab services with access to enhanced, private testing. This means that Health Today Health is positioned to provide quick, efficient, and reliable tests when your physician requires, but that we can also offer you access to tools that can provide a more advanced insight into your overall health and wellness. Here is what we offer:
On Demand Private Lab Services Across Canada
From our home bases in Calgary, Edmonton, Fort McMurray, Red Deer, Medicine Hat, and Toronto, Health Today Health provides affordable, safe, and reliable in-clinic, mobile, corporate, and pop up clinic advanced lab services to people across Canada. Visit our city links to learn more about our locations and the services offered.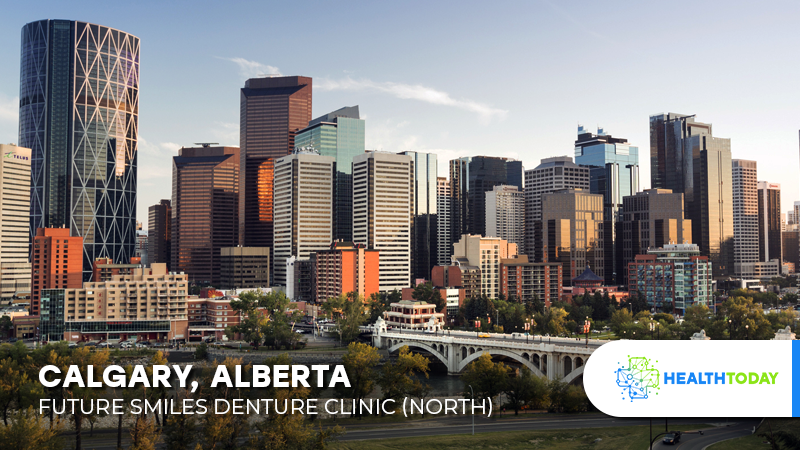 Calgary - Future Smiles Denture Clinic (North)
23 Coral Springs Blvd NE
Calgary, AB T3J 4J1
Canada
Directions
All Tests
The cost of this life-saving early cancer detection test is $2,000 + tax. You can book your test here.
Every Canadian can benefit from the comprehensive insight provided by the Aristotle® early cancer detection test, but this screening can be especially beneficial for those with increase risk factors such as:
Exposure to cancer-causing behaviours, environments or substances
Age and gender predispositions to certain cancers
A family history of cancer
A personal history of previous cancers
Health Today Health will complete your in-clinic or mobile lab specimen collection. This is transported within 6 hours to the StageZero Life Sciences laboratories. All further outreach to patients and their physicians is through StageZero Life Sciences. You will recieve your test results through them in 7 to 14 days.
Your Partner In Optimal Health Health today is committed to providing the highest level of service to our in-clinic, mobile, corporate, and rural lab service clients across Canada. We promise to continue to provide advanced solutions for testing and overall health. We will be here whenever you need lab services, wherever you need them.
Choose Health Today as your partner in achieving better health. Call 1-403-475-0016 or contact us online.
Tomorrow's Advances In Health Screening Available Today
Health Today leverages valued partnerships with global testing technology partners to bring Canadians advanced screening tools to aid in achieving optimal health and wellness. Offered alongside excellence in delivering standard lab services, these breakthrough technologies position Health Today to be every Canadian's best option for health testing and screening.
Use the form below for more information about our in-clinic, and pop up labs services.