Health Today Health continues to support public health efforts with comprehensive COVID-19 testing for active and past infections. We offer a telehealth program where you self perform the test from the comfort of your home, office, or hotel under video supervision and a digitally signed PDF result is emailed to you. We also offer blood tests to determine your level of antibodies, or if you have encountered Covid-19 previously and may have some degree of natural immunity.
Health Today Health offers the following COVID-19 tests:
COVID 19-Antibody Serology Test: Health Today Health is one of the only private companies providing a quantitative COVID-19 antibody test that detects antibodies from prior or current infections or from vaccination.
COVID-19 Rapid Antigen Test: This is a travel-compliant test with signed paper results delivered in 15 minutes. This test is also used for workplace virus management. It is available in our Calgary, Edmonton, Red Deer, and Toronto.
T-Detect™ COVID-19 T Cell Test: This test can detect prior COVID-19 infections with 95% accuracy. For those who were not tested at the time of infection, this can be useful for a diagnosis of long COVID, for managing long-term health, and for providing insight into your body's immune response.
Reliable Standard Screening With Advanced Testing Options
We offer a hybrid model of general blood work and public lab services with access to enhanced, private testing. This means that Health Today Health is positioned to provide quick, efficient, and reliable tests when your physician requires, but that we can also offer you access to tools that can provide a more advanced insight into your overall health and wellness. Here is what we offer:
Cities We Serve
From our home bases in Calgary, Edmonton, Fort McMurray, Red Deer, Medicine Hat, and Toronto, Health Today Health provides affordable, safe, and reliable in-clinic, mobile, corporate, and pop up clinic advanced lab services to people across Canada. Visit our city links to learn more about our locations and the services offered.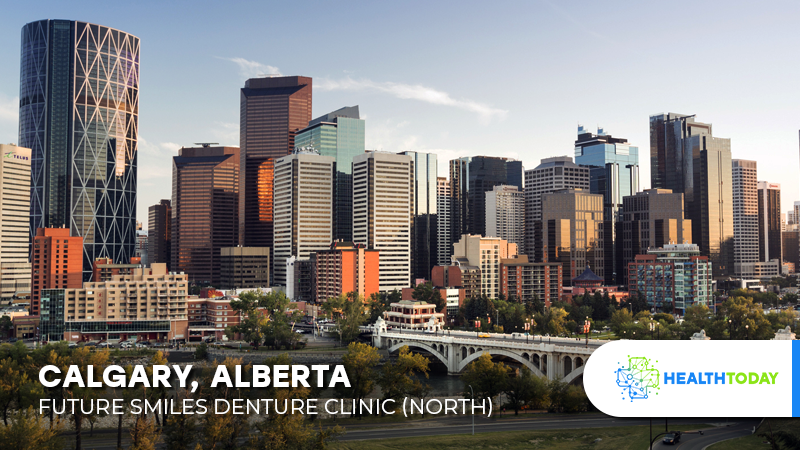 Calgary - Future Smiles Denture Clinic (North)
23 Coral Springs Blvd NE
Calgary, AB T3J 4J1
Canada
Directions
All Tests
Health Today Health offers antibody, molecular, and rapid antigen testing on-site, in the workplace. This allows businesses to respond quickly and control the spread of infection.
Health Today Health offers quick-result testing options for travellers as well as testing kits with remote authentication. Learn more here.
Depending on your reason for testing, your location, and your documentation requirements, Health Today Health offers different testing options. Find out more about our COVID-19 testing options here.
Your Partner In Optimal Health Health today is committed to providing the highest level of service to our in-clinic, mobile, corporate, and rural lab service clients across Canada. We promise to continue to provide advanced solutions for testing and overall health. We will be here whenever you need lab services, wherever you need them.
Choose Health Today as your partner in achieving better health. Call 1-403-475-0016 or contact us online.
Tomorrow's Advances In Health Screening Available Today
Health Today leverages valued partnerships with global testing technology partners to bring Canadians advanced screening tools to aid in achieving optimal health and wellness. Offered alongside excellence in delivering standard lab services, these breakthrough technologies position Health Today to be every Canadian's best option for health testing and screening.
Use the form below for more information about our in-clinic, and pop up labs services.