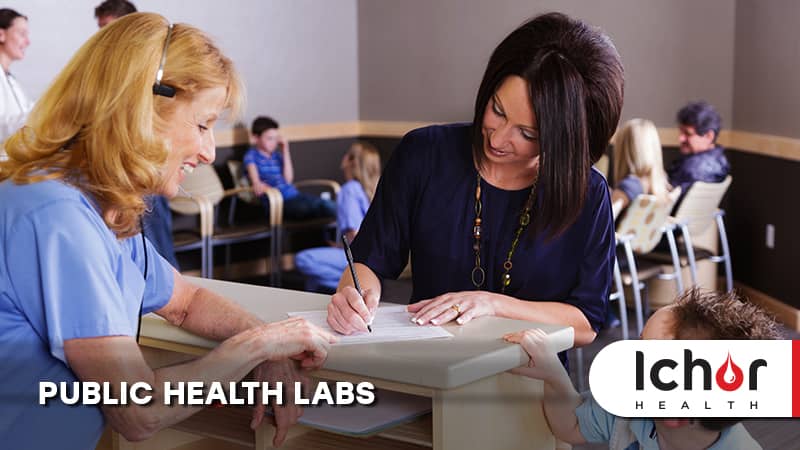 For patients who wish to avoid the longer wait times, limited schedules, overcrowded wait rooms, and other inconveniences of most public health labs, Ichor offers an affordable solution. Our Public Health Lab services can help you avoid the pitfalls associated with busy labs with increased accessibility and convenience, enhanced safety and privacy, and fast turnarounds. Ichor Health is an approved provider of lab collection services in Calgary.
Ichor Health provides general collection services for:
Annual Physicals
New Canadian Physicals
Pregnancy Screening during first and second trimester
STD/STI Testing
Collection services for enhanced, privately purchased tests
The Benefits Of Ichor Public Health Lab Services
Ichor Health is integrated into the existing public health system. For a fee we can complete testing requisitioned by your physician and report results within the same process frameworks as public clinics. The benefits of choosing Ichor for you lab collections services are:
Convenience: Avoid lengthy waits for appointments, crowded wait rooms, limited operating hours, and distant lab locations with the scheduled appointments and mobile service options of Ichor Health.
Privacy: Ichor Health private locations and options for mobile collections offer enhanced privacy and discretion not offered in the bustling, public spaces of most provincially funded labs.
Safety: For people with compromised immunity and impaired mobility busy public labs can present challenges. Ichor Health mobile lab services provide specific scheduled appointment slots for minimal exposure and specimen collection from the safety of your own home.
Standard and Advanced Testing Services
Ichor Health delivers the same level of excellence in care and reliable results for our general lab work and our enhanced screening clients. Here are the lab tests currently offered by our collections and lab services team.
What Our Clients Have To Say
We are proud of the important work we do and the impact that fast, convenient, and private lab testing services can have on the health and wellbeing of our community. We are even more proud that you don't have to take our word for it. Here is what our clients have to say about their experience with Ichor Health:
Ichor In Your Pocket!
Ichor is here to help you take control of your health! Our screening tests allow you to find and address health issues before they become bigger and less manageable. And with our new software, booking is easy!
book online, or download our easy-to-use Ichor Health app at the Apple Store or Google Play.
Download Now!
RELIABLE STANDARD SCREENING WITH ADVANCED TESTING OPTIONS
We offer a hybrid model of general blood work and public lab services with access to enhanced, private testing. This means that Ichor Health is positioned to provide quick, efficient, and reliable tests when your physician requires, but that we can also offer you access to tools that can provide a more advanced insight into your overall health and wellness. Here is what we offer:
Pricing is dependent on in-clinic or mobile testing and the type of testing required. You can find our complete price list here.
We are regulated and bound by the same protocols as provincially funded labs, but we do charge a small fee for the convenience, safety, and privacy benefits offered by a private lab service.
You can book your mobile lab appointment online here or you can download the Ichor Health app at Google Play or the Apple Store and book your slot and manage your account from your mobile device.
Your Partner In Optimal Health Ichor Health is committed to providing the highest level of service to our in-clinic, mobile, corporate, and rural lab service clients across Canada. We promise to continue to provide advanced solutions for testing and overall health. We will be here whenever you need lab services, wherever you need them.
Choose Ichor Health as your partner in achieving better health. Call 1-844-424-6728 or contact us online.
Tomorrow's Advances In Health Screening Available Today
Ichor Health leverages valued partnerships with global testing technology partners to bring Canadians advanced screening tools to aid in achieving optimal health and wellness. Offered alongside excellence in delivering standard lab services, these breakthrough technologies position Ichor Health to be every Canadian's best option for health testing and screening.
Use the form below for more information about our in-clinic, and pop up labs services.